Hunter Leggitt Studio is a multi-disciplinary experiential design firm based in Denver and Los Angeles. We provide clients and with high-end immersive modern architecture and interiors, experiential production design and creative direction, innovative real estate development, and turnkey owner's representation and project management.

The studio has an extensive knowledge and background designing and building high-end custom homes, cutting-edge festival stages, large-scale art and immersive installations, event production and creative direction, and custom fabrication, engineering, and construction. Armed with an extensive roster of global resources, the studio is capable of concepting and producing the wildest of concepts imaginable.

We believe that through challenging the pragmatic and homogenous conventions of the built environment with inspired and intentional creative direction, we not only enrich our lives and experience, we can positively impact the legacies of future generations to come.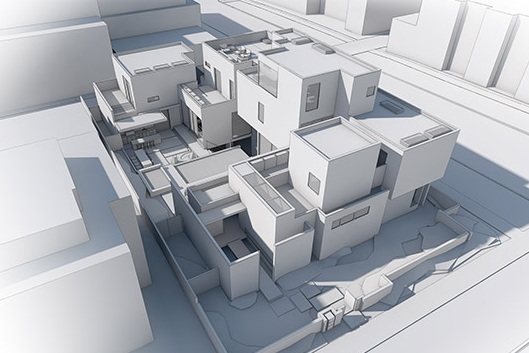 Our immersive architecture design studio creates high-concept and high-end custom modern architecture and real estate developments from concept through completion. No matter the size or complexity of the project, we assemble and direct the right teams.

We work with owners both as the design lead as well as an owner's representative, helping manage and direct the important decisions and processes necessary for the successful execution of the project. Our extensive experience in vertically integrated design/build, fabrication, general contracting, and construction management provides expertise in full-scope project management.

We believe that the stories we write in our lives start from our home. And we strive to create environments to live in and experience with the highest levels of thought, intentionality, and purpose.

The studio is capable of designing and directing many various types of immersive architectural projects - custom single-family, multifamily, mixed-use, commercial, restaurant/bar, exhibition, urban design & planning. We pursue creatively impacting residential and mixed-use real estate development and are open to discussing potential partnerships, investment opportunities, and unique project positioning.
EXPERIENTIAL DESIGN & INSTALLATION
Our experiential design and installation studio creates high-concept and high-impact, immersive experiences. Ranging from spectacular ephemeral stage productions, to sensory-driven set design, to Big Art, to permanent interactive installation - we seek to push the boundaries of artistic and technological curation, engineering, innovation, and experience.
We work with the music and film industries, as well as live event performance and cultural exhibitions. We also aim to weave experiential and production design into architecture and real estate for unique and extraordinary enhancements to built environments and living spaces.
Our design team and fabrication collaborators are experienced and capable of delivering any scale and complexity of immersive production from concept through fabrication and execution.
PROCESS
We do a lot.
And we're sure that you have a lot of great questions.
From preliminary concept evaluation and team assemblage through design direction, execution, and delivery, it all starts with a simple conversation.

We want to hear what you're thinking.
ALLIES
clients | collaborators | partners